KETOGENIC MEAL
BURN is optimized for burning fat, with 25g complete protein and 1-2g net carbs per serving. Mix with water and oil to make a nutritious meal.
$2.50 / meal x 20 meals
Regular price
Sale price
$50.00 USD
Unit price
per
SALE
SOLD OUT
Free Shipping

All orders ship free within the US! International shipping coming soon.
Vegan & Hypoallergenic

Free of animal products and all common allergens, including gluten, dairy, peanuts, tree nuts, soy, and other legumes!
View full details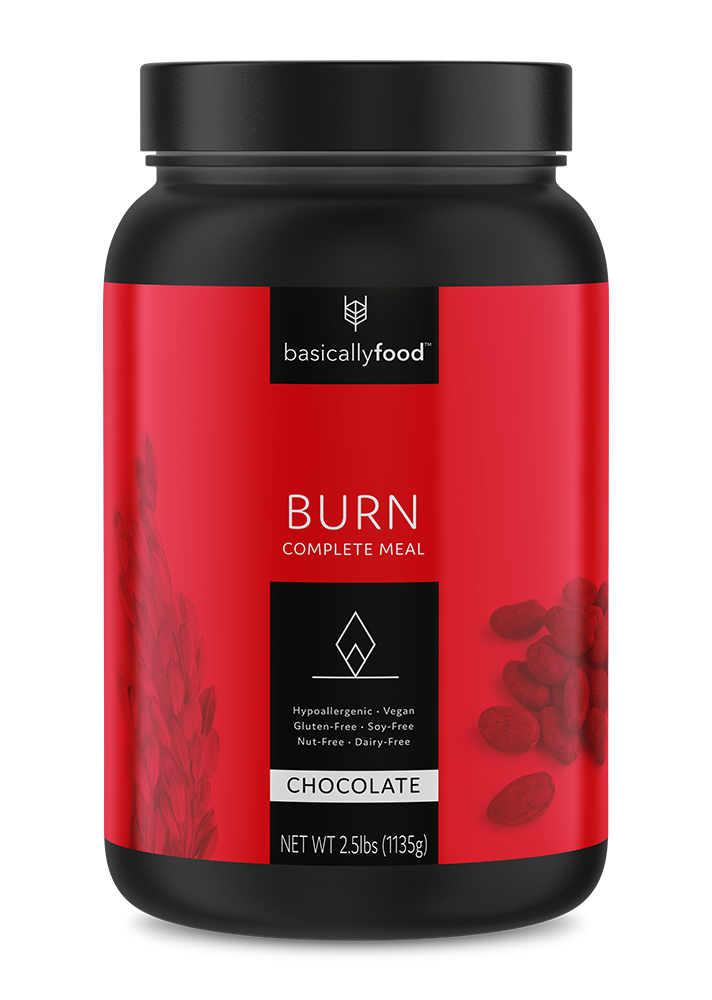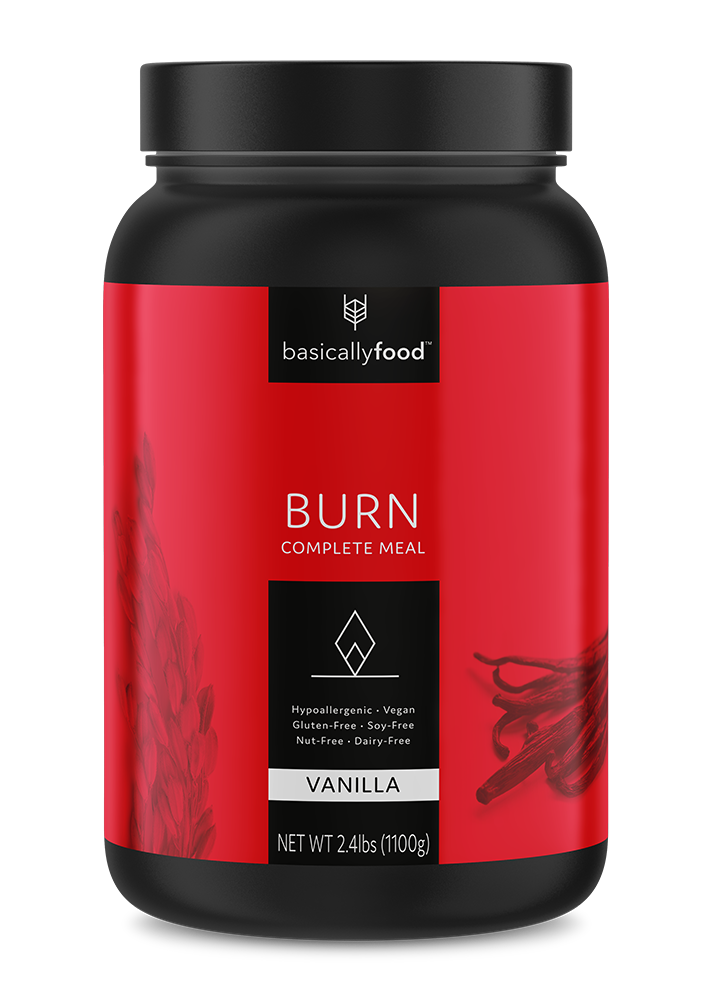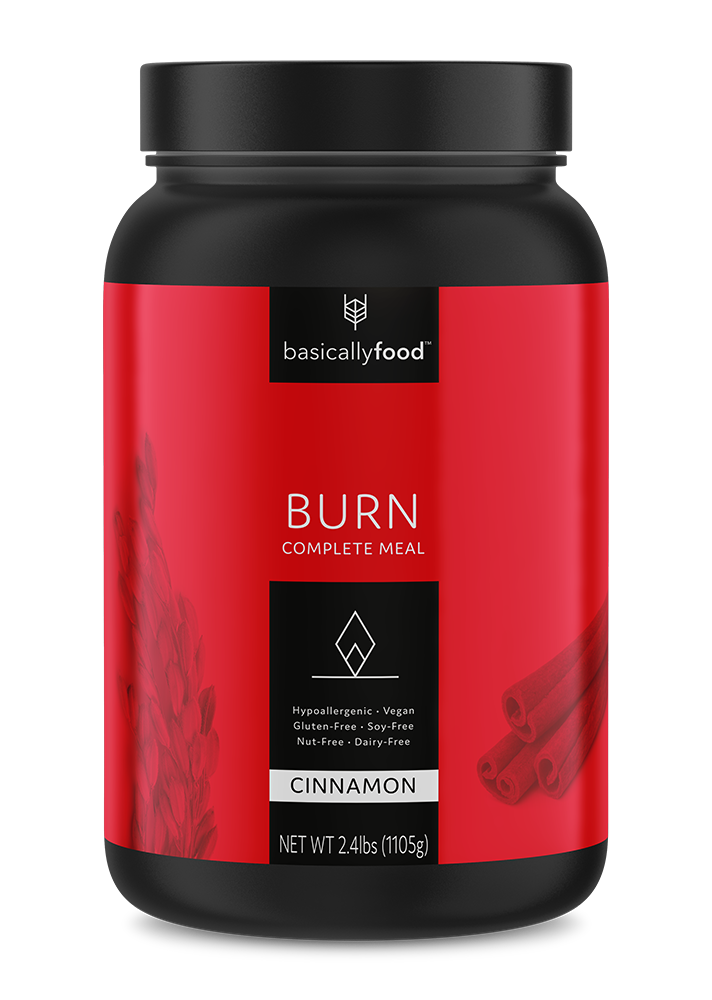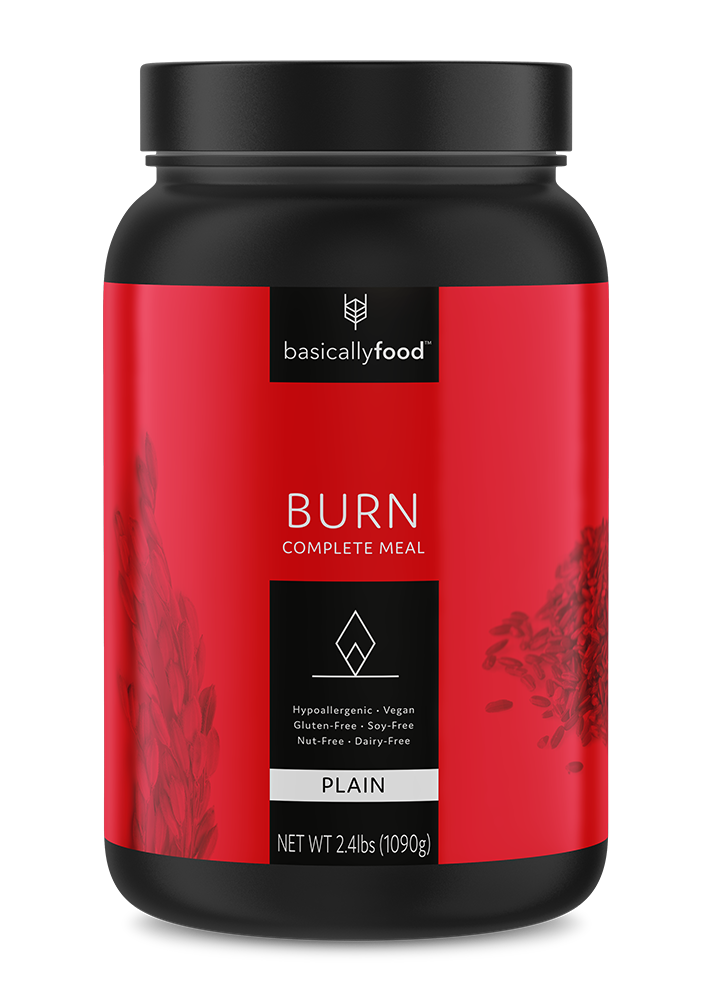 INSTRUCTIONS
Mix ½ cup* of BURN powder with 1½ cups of water and 2 tablespoons of oil. Shake or blend, refrigerate overnight, and enjoy!
Feel free to customize the amount and type of oil to fit your dietary goals:
AVOCADO OIL, OLIVE OIL, or MELTED COCONUT OIL
3 tbsp (45ml) for 575 calories (5:15:80)
2 tbsp (30ml) for 450 calories (5:20:75)
1 tbsp (15ml) for 325 calories (5:30:65)
1 tsp (5ml) for 250 calories (5:45:50)
HEAVY CREAM or MELTED COCONUT CREAM
6 tbsp (90ml) for 535 calories (5:20:75)
4 tbsp (60ml) for 435 calories (5:25:70)
2 tbsp (30ml) for 335 calories (5:35:60)
1 tbsp (15ml) for 285 calories (5:40:55)
Keep refrigerated after mixing, and drink within 3 days.
Remember to drink plenty of water too!
* We've found that the BURN powder is fluffier than expected, so the included 90cc scoop is not quite big enough for one serving. We recommend using 2 level scoops of a standard ¼ cup (60ml) measuring cup per meal instead, or a digital kitchen scale.
INGREDIENTS
MACRONUTRIENTS Organic Brown Rice Protein, MCT Oil, L-Lysine Hydrochloride
FIBER Acacia Gum, Cellulose, Xanthan Gum
ELECTROLYTES Dipotassium Phosphate, Calcium Citrate, Himalayan Pink Salt, Magnesium Malate, Potassium Bicarbonate, Sodium Citrate
FLAVORING Organic Dutched Cocoa, Organic Ceylon Cinnamon, Vanilla Extract, Monk Fruit Extract
OMEGA-3 DHA Algal Oil, Starch Sodium Octenyl Succinate, Glucose, Sodium Ascorbate, Calcium Phosphate, Mixed Tocopherols, Ascorbyl Palmitate
MICRONUTRIENTS Choline L-Bitartrate, Myo-Inositol, Ascorbic Acid, Ferrous Gluconate, Boron Glycinate, Zinc Glycinate, D-Alpha Tocopherol, Ergocalciferol, Beta Carotene, D-Calcium Pantothenate, Selenium Glycinate, Copper Glycinate, Niacinamide, Manganese Glycinate, D-Biotin, Phytonadione, Retinyl Acetate, Menaquinone-7, Menaquinone-4, Pyridoxal 5-Phosphate, Potassium Iodide, Thiamine Pyrophosphate, Pyridoxine Hydrochloride, Riboflavin 5-Phosphate, Molybdenum Glycinate, Thiamine Hydrochloride, Riboflavin, Chromium Picolinate, Calcium L-5-Methyltetrahydrofolate, Methylcobalamin
HIGH-CARB MEAL

BOOST

OPTIMIZED NUTRITION
FOR QUICK ENERGY

LEARN MORE

HIGH-PROTEIN MEAL

BUILD

OPTIMIZED NUTRITION
FOR BUILDING MUSCLE

LEARN MORE

LOW-CARB MEAL

BALANCE

OPTIMIZED NUTRITION
FOR STABLE ENERGY

LEARN MORE